KITABOO recognized as 2016 Apex Award winner for Publication excellence
Hurix's flagship product KITABOO, has been awarded the 'APEX 2016 Award of Excellence' in the Education & Training – Electronic Media category. The award was given for its work on 'Delivering Interactive eBooks on Mobiles & Tablets'. Hurix's win was announced on June 22, 2016.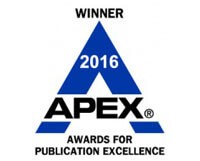 APEX 2016 awards were based on excellence in graphic design, editorial content and the success of the entry—in the opinion of the judges—in achieving overall communications effectiveness and excellence.
KITABOO has been recognized 2016 Apex Award winner as it helps enterprises, publishers and institutions to create and distribute interactive content securely on mobile devices. Present in over 20 countries and with a global user base of over 6 million users, KITABOO provides a multi-lingual learning solution with best-in-class user experience on the device of their choice.
"The power of mobility is changing the way the content is created and delivered worldwide," said Srikanth Subramanian, EVP Sales and Product Solutions at Hurix. "We are excited on winning the Apex award for publication excellence this year. We have been at the forefront in the digital content technology space and this award is a testimony of this fact," adds Srikanth.
According to the APEX 2016 judges, "The awards were based on excellence in graphic design, quality of editorial content and the success of the entry in conveying the message and achieving overall communications effectiveness."
About Hurix Digital:
With over 15 years of digital learning experience, Hurix has helped clients in over 20 countries to distribute and manage compelling and engaging digital content across traditional and newer mobile platforms, formats and devices. Hurix has an increasing user base of 6 million users and over 12,000 person-years of experience.
Our Products and Enterprise Services:
KITABOO: A cloud-based, end-to-end digital publishing platform that helps create and distribute interactive content securely on mobile devices. It's enhanced analytics engine provides clients with valuable insights to create better engaging content.
DocketZoom: A mobile-first content presentation platform which helps sales & marketing teams, channels and franchises to create interactive content on their self-branded app with social sharing. DocketZoom provides advanced analytics to track content consumption patterns that help them make sharp business decisions.
Epub3automation: This service helps you convert your documents into a fixed epub3 layout in minutes and deploy the files into multiple platforms of your choice, dramatically reducing your eBook turnaround time by 98% and improving your ROI.
Recognition:
Hurix has won multiple awards for its platforms, KITABOO and Dictera in the field of learning technologies, Mobile & Content Authoring by Brandon Hall Group (2013, 2014 & 2015). We have been named among the leading training outsourcing companies watch list in 2015 & 2016 by the Training Industry Inc. Hurix has won 2015 Red Herring Top 100 Asia Award and has been named among the Top 20 Authoring Tools Companies.
For more information, visit www.hurix.com.
About the APEX Awards
The APEX Awards for Publication Excellence is an annual competition for publishers, editors, writers and designers who create print, Web, electronic and social media. Communications Concepts, Inc. sponsors the APEX Awards and advises professionals who write, edit and manage business communications, on best strategies and practices. Concepts publishes business communication reports, including Writer's Web Watch, an e-report for professional communicators, and special reports on topics such as corporate writing and Web publishing.
For further details, please contact:
Aditya Chakravarthi, aditya.c@hurix.com, +91-22-61914888. Hurix Systems Pvt. Ltd.